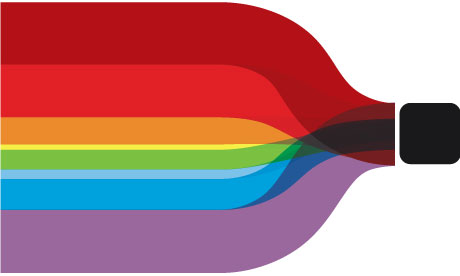 David McCandless loves turning numbers into pictures. He is the author of the book, Information is beautiful and writes the Guardian's datablog. This week he has been reacting to the latest calls for legalization from Bob Ainsworth. The former government drugs Minister who had a change of heart after witnessing how badly current policy is failing us at home and abroad. (As defence minister he saw how the black market for heroin keeps the Taliban in business.) Drawing on data from Independent Drugs Monitoring Unit, David has found a reason that might convince Cameron and his fellow Tory millionaires… money. Legalising drugs could bring in £5 billion in taxes and would no doubt save a packet on enforcement too. Click the pic to link through to the data.
This is not the first time David has turned his talents to the drug trade. He produced several images for the  High Society exhibition at the Wellcome collection in London. Put together by Mike Jay and the Wellcome Trust, it's about the influence of (illegal) drugs on society and culture.
David contibuted some elegant maps showing drug by drug, the top 8 countries for per capita consumption. There are some surprising patterns. Here's alcohol.
By the way what do we call this particular branch of human geography? Psychogeography doesn't quite go far enough.
He also produced this brilliantly exhaustive yet concise drug reference:
The flurry of words that followed Bob Ainsworth's conversion became the same old shouting match. Most of his words  were drowned out. But pictures like this depicting real research are harder to answer. Let's hope David keeps up the good work.
Legalising drugs: would it work, by Information is Beautiful | News | guardian.co.uk.
http://www.informationisbeautiful.net/
Related articles